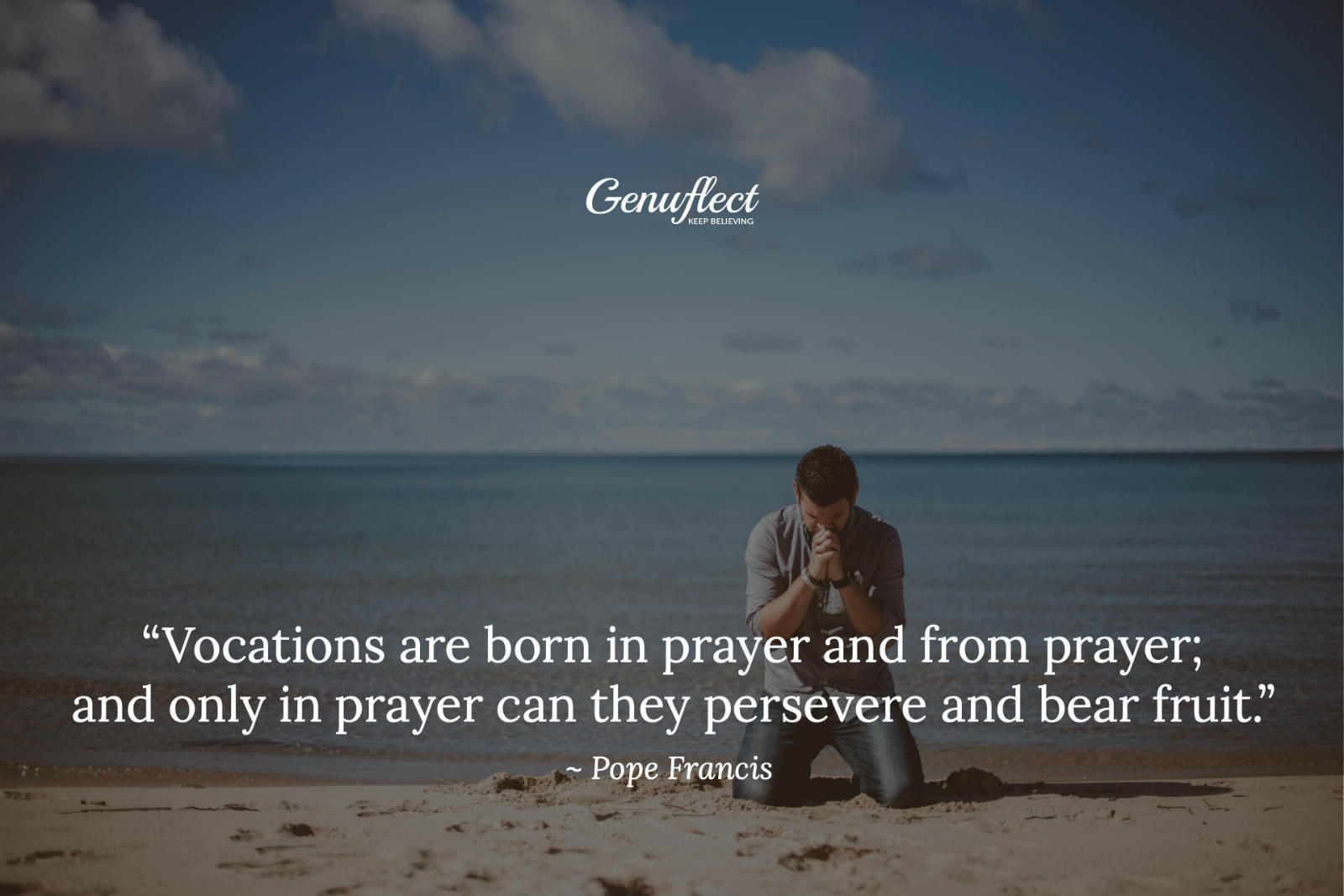 Hey there,
There was a lot going on last Sunday. Of course, we celebrated our mothers. And it was Good Shepherd Sunday.
Sunday was also the World Day of Prayer for Vocations.
The US Conference of Bishops says this about Vocations Sunday:
"While appreciating all vocations, the Church concentrates its attention this day on vocations to the ordained ministries (priesthood and diaconate), to the Religious life in all its forms (male and female, contemplative and apostolic), to societies of apostolic life, to secular institutes in their diversity of services and membership, and to the missionary life, in the particular sense of mission 'ad gentes.'"
There were almost 60,000 Catholic priests in the US 50 years ago. Today, priests number only 37,000 … and this year half of all active priests will reach the minimum retirement age of 70. To make matters worse, only 600 new priests will be ordained in the US this year.
So it is important to pray for an increase in the priestly vocations. And there's no time like the present:
God, the source of
creation and love,
You invite each of
us to serve you through the life
which is your gift.
May your grace
encourage men and women to heights
of holiness through service to the church
as priests, sisters, brothers, and lay ministers.
Make me an
instrument to encourage others
to give of themselves and
challenge me to do the same.
Amen
We are all called by the Lord to a vocation … it may not be the priesthood or sisterhood, but it's just as important.
We need only to ask Him … and listen for His answer.
This week's issue of Genuflect is here to help by focusing on vocations … the discernment process, signs to become a priest, how to become a deacon or a nun, how to have a sacramental marriage, and more.
So in addition to praying for an increase in priestly vocations, let's not forget to pray for our own vocation … throughout our life.
Keep Believing-
Katy Barrilleaux
Editor, Genuflect
P.S. May is also the month for a lot of First Communions. If you are looking for a special gift, take a look at these First Communion gift ideas for a girl.
genuflect:

s

ponsor
---
Shop the world's #1 Catholic store with more than 16,000 items for everything from medals, jewelry, rosaries, books, home goods, and more. There's a wide selection of gifts for upcoming holidays like Father's Day … and gifts for your loved ones' Baptism, First Communion, graduation, wedding, and other special occasions. You'll even find the perfect gift for teachers, armed forces, and first responders. And don't forget to treat yourself to something special to dive deeper into your Catholic faith. Shop The Catholic Company's large selection here.
genuflect: resources
---
There is no shortage of vocations in the Catholic Church—in the United States or any place else. What we're seeing is a shortage of vocational discernment. Not enough people ask themselves what God wants them to do with their lives. Discernment—not recruitment—should be central to vocations efforts today. And personal vocation should be at the heart of it. Here are the three types of vocations and how discernment varies from planning.
Here are six steps of vocational discernment. These steps, however, are not merely taken and finished. We are always engaging these steps at deeper levels, even after finding and following our vocation. Sometimes these steps are going on at the same time, and there is always more work we can do at each step.
The frustration surrounding vocational discernment is one of the easiest tricks the Devil can use to close a devout soul off to God. The Devil always tells half-truths. He is not going to tempt these earnest young Catholics who ardently desire to do God's will with grave sin, but instead will use their otherwise good desire to find out what God desires from them and shift it, thwart it, with little lies or by encouraging certain mistakes. Some of the most common ones that seem to come up time and again, are listed in this article.
On Sunday, Pope Francis advised listening to and speaking with Christ the Good Shepherd in prayer, so that one can be guided on the right paths of life.
From the outside, the secular and sacramental marriage look nearly identical and many are fooled by cheap knock-offs. Of those who understand the distinction, even fewer have the courage to pursue the divine. Yet, all the courage in the world is insufficient when sacramental grace is lacking. And so this vocation, in truth, is very rare. Here's how to tell the difference.
What to look for when choosing a spouse, including the qualities of true friendship, the qualities of a good spouse, and the importance of good advice and prayer.
If you're newly engaged, spending time preparing spiritually for your wedding day beyond your church's requirements will even more firmly root your future marriage in Christ and bring peace to your soul as you plan your wedding. Here are some ways to take time to prepare spiritually to build a strong foundation of faith for your marriage.
For those men who are currently in formation to become a Catholic deacon and those who feel they may be called, or are at least thinking about it, here are some things to consider as you discern God's will to be a Catholic deacon.
Members of Pope Francis's study commission on women deacons spoke publicly for the first time Tuesday, saying the pope has their report and expressing confidence that when the moment comes, he'll make the right call. In the meantime, Zagano suggested that rank and file Catholics also have a role to play in the discussions around the subject.
Ever wonder if God might be calling you to become a Catholic nun or sister? Don't know where to begin now that you feel drawn to looking into religious life? Here you'll learn about how to become a Catholic sister or nun. You'll get a general idea of where to start, what the general logistics are, and some helpful hints from someone who's been there and is now a Catholic sister.
What are the signs of a vocation to the priesthood? Every Catholic priest who discerned a vocation experienced some evidence in his life that this was the right path. But, what signs of a vocation should we look for? Fr. Philip Neri Powell, OP, has a few suggestions.
… And honest answers to your questions about priests, sisters, brothers, vows, sexuality, community life, and more.
genuflect: bonus
---
Vocations Inspiration on Your Desktop and Phone
Click below to download this week's free Vocations inspirational wallpaper for your desktop and your phone.
Download for Desktop Download for Phone
genuflect: sharing
---
Please use these buttons to share this issue of Genuflect with your friends, family, and followers who may be interested. Thank you!