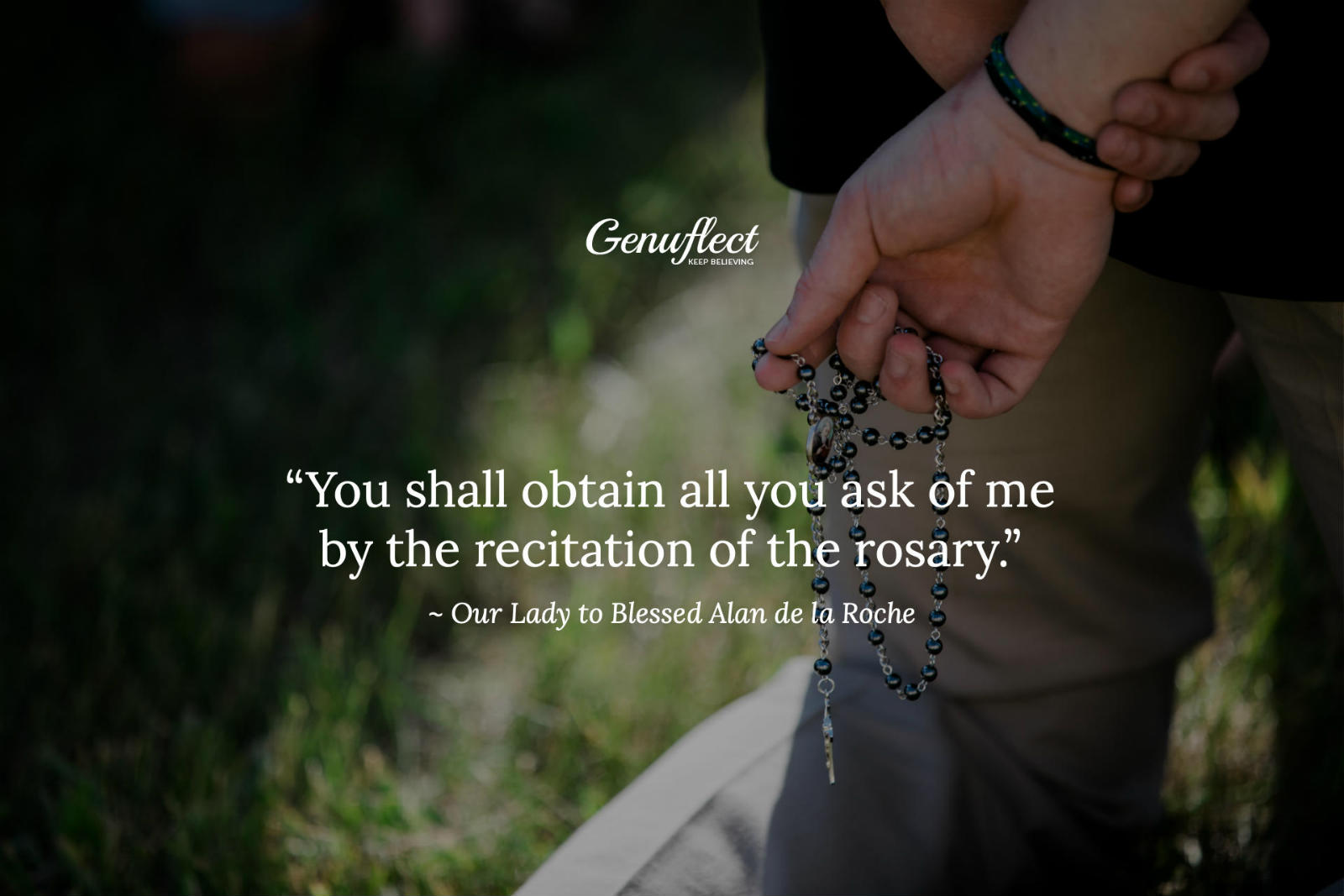 Hey there,
October has arrived bringing cooler weather, changing leaves, and pumpkin spiced everything.
In the Catholic Church, October brings thirty-one days dedicated to the Holy Rosary. And that's the focus of this week's Genuflect.
I love everything about the rosary. The different shapes and colors of the beads. The centerpiece and crucifix. The formality and repetition of the prayers. Working my way around the rosary with each prayer.
One of my favorite rosaries is the first one I received from my grandfather on the occasion of my First Holy Communion. It's a simple rosary with small, white pearl beads. I think of him everytime I pray with it.
Then there is the beautiful rosary I inherited from my mother. She brought it home years ago from a trip to Rome. The ruby beads are encased in decorative metal and it was blessed by the Pope.
I couldn't pass up a rosary I found in Mexico made from a silky blue cord, with knots tied in place of beads.
These are just a few of my favorite rosaries I've collected. I also enjoy making rosaries by hand.
But I must admit I don't pray the rosary as much as I should. Gathering the resources for this issue of Genuflect has allowed me to dive deeper into the mystery, beauty, and power of the rosary. These articles have inspired me to pray the rosary more frequently. I pray they'll do the same for you.
And I invite you to join me in praying the rosary this month … and after.
Keep Believing-
Katy Barrilleaux
Editor, Genuflect
---
Resources
October has long been the month dedicated to the Rosary. Pope St. Pius V established the feast of Our Lady of the Rosary (October 7th) in 1573 to thank God for the victory of Christians over the Turks at Lepanto, a victory attributed to the praying of the rosary. The Rosary we pray today has evolved over many years. And has been the subject of sevaral apparitions. Learn more about how the history of the Holy Rosary.
Many Catholics, unfortunately, have the impression that the rosary is not relevant for them. But there are many different ways to pray the rosary … some that can easily fit within your schedule and help you with whatever challenges you face right now in your life. Here are five key things you need to know.
Our Lady has a prayer that fills her heart with joy—the Hail Mary and the most Holy Rosary. Every time the Hail Mary is prayed with attention and sincere heart, Our Lady's heart is filled with joy. Here are ten points to motivate you to pray the most Holy Rosary.
The rosary is a powerful prayer. It settles our hearts and minds. It puts things in perspective and allows us to see things as they really are. It reaches deep down into our souls and puts us at ease, creating a peace that is rare and beautiful. To put it simply: It just works. If you need a refresher, here are detailed step-by-step instructions for praying the rosary.
If you prefer to have someone else lead you in the rosary, this website is for you. Follow along in either individual mode or select the worldwide mode to join others from around the world currently praying the Rosary.
Pope Francis has asked all Catholics to pray the rosary daily during the month of October, asking Mary and St. Michael the Archangel to intercede for the protection of the Church in a moment of "spiritual turbulence."
Christina Antus writes: this past Lent I decided I would replace my evening social-media-feed-scroll-fest and park my behind in the living room with a chair and a rosary every night. Here's what happened in the six months since she started.
Rosaries, sacred images, saint medals, and candles are sacramentals that are common items in many Catholic homes and parishes; and it is a common practice for these items to receive the blessing of a priest before they are used. But why do we do this? What is the benefit?
Guess what! There is no rule against wearing rosaries around your neck. Many people think it's wrong. Father Stephen Vrazel explains when it's acceptable to wear the rosary … and when it's not.
As Catholics, we commonly have religious items blessed, whether it be by a priest or bishop. When we have a rosary, crucifix, palm branch, or other item blessed it becomes permanently sanctified for a sacred purpose. However, over time statues and rosaries may become broken from use, or palm may naturally degrade. Here's how to properly dispose of damaged sacramentals.
---
Evangelize
Please use these buttons to share this issue of Genuflect. Thank you!